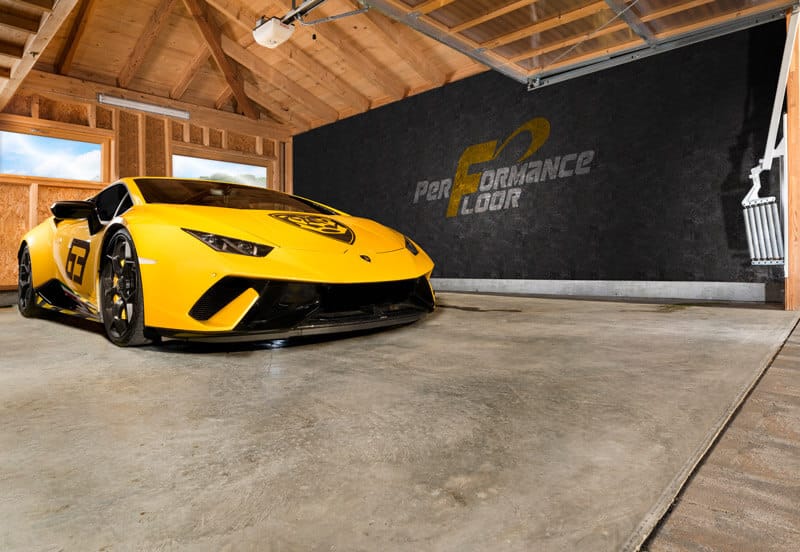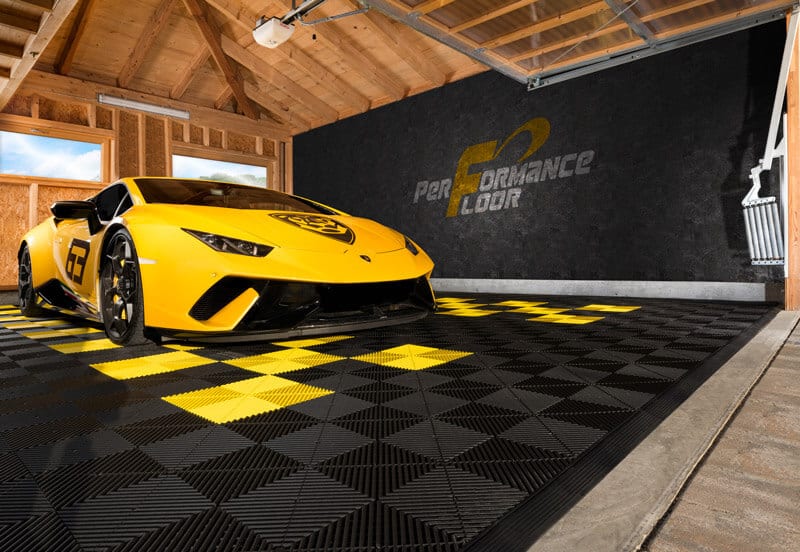 The original for over 30 years.
---
We also support you with your dream project!
---
individual advice at no extra cost
Easy to create yourself with the floor designer
Wide range of products
Performance Floor
The perfect appearance with one click . The simplest click system in the world.
---
The click tiles make your appearance perfect - regardless of whether it's a racing team, exhibition stand or in the garage at home. A simple parking space becomes an eye-catcher for every vehicle.
Different surface designs and a large selection of colors leave nothing to be desired as the tiles can be intercombined in both design and color.
---
Frequently asked Questions
1
How resilient is the floor?
Loads of up to 30 tons per square meter are no problem. The click tiles are suitable for all work around the vehicle. They are also resistant to almost all organic solvents, acids and alkalis. To increase point loads, for example to compensate for jacks, we recommend placing a board between them.
2
How do I use the Floor Designer?
First you should measure the area for your performance floor. Then you can enter the dimensions in our Floor Designer, select the click tile and color and start designing. You can either order directly in our online shop or by email. Write to us if you need further help.
Try it now and do it yourself. With the Floor Designer you can let your creativity run free. Simply enter the dimensions, select the click tile and color and start designing.
3
What is the difference between the Race and Race Flat click tiles?
The open 3D design of the click tiles is the same. The difference: Race has a rounded surface and Race Flat has a flattened surface. The surface of the Race Flat is therefore perfect for the workshop, or in general if a lot of groundwork and kneeling is required.
The click tiles can easily be cut with a jigsaw or circular saw. The edges can then be sanded down with fine sandpaper.
5
Why must a distance to walls etc. be planned?
Since polypropylene expands when it is warm, a distance to solid components (walls, columns, door sills, passageways, etc.) should be planned. Our recommendation: The expansion joint should be 1% of the total length and at least 3 cm in size. The optimal material and ambient temperature when laying the click tiles is between 15 and 25 ° C.
6
Do I need side and corner parts or expansion parts?
The slanted side and corner parts complete the overall picture and serve as a driveway. These are therefore only required on garage entrances or doors (not along the walls). Expansion parts serve to absorb the movement of the click tiles. We recommend planning a row with areas larger than approx. 80 m². They can also be used as cable or LED channels.
Do it yourself!
---
Use our Floor Designer free of charge and configure your own dream floor.